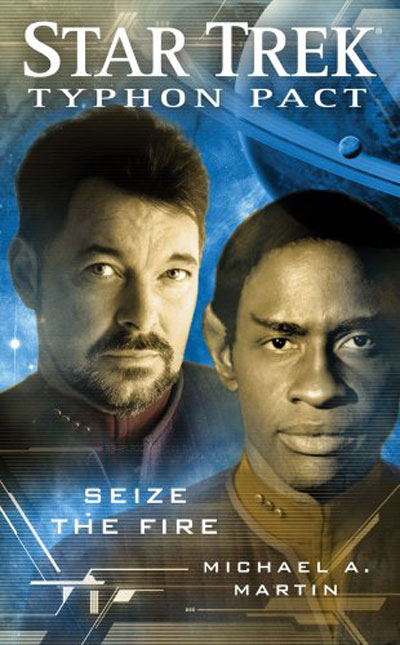 Last month I mentioned the latest Trek mini-series to hit book shelves, Star Trek: Typhon Pact. Following its monthly release schedule, the second book in the series, Michael A. Martin's Seize the Fire, continues the story arc focusing on the crew of the USS Titan, and their brush with the Gorn in an attempt to secure an ancient terraforming technology similar to Project Genesis, ala Star Trek III: The Search for Spock. While I doubt the book contains any poorly choreographed fight scenes involving rock wielding men in lizard suits — hey, it was awesome for its time — it definitely gives us a better understanding of the Gorn's social hierarchy. I honestly didn't even know they had one.
You can pick it up at your local retailer in paperback for $7.99, but I'd recommend an ebook. In fact, unlike the previous Typhon Pact novel, this one is currently available on both the Apple iBooks store and Amazon's Kindle store. If you don't own a compatible iDevice, or a Kindle you can find other stores by visiting  Simon & Schuster's website here.
Tim is a pro-blogger and freelance writer out of San Diego, California. In addition to Fanboy.com, he contributes to the ModernMethod Network of sites as the Features and Reviews Editor for the Japanese culture and entertainment blog, Japanator. He's also an Assocaite Editor for their popular gaming blog, Destructoid, and the collectible toy culture blog, Tomopop. For more information, follow him on twitter, or check out TimSheehy.com.