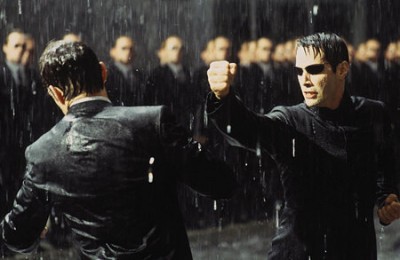 [Update: Slashdot has confirmed that this is not happening, but I suppose there's always wishful thinking. Thanks to Fanboy Brian for pointing this out.]
Keanu Reeves apparently gave quite the keynote at the London School for Performing Arts. During his speech, he reportedly dropped some details about upcoming projects including two Matrix scripts that are currently in the works. Now, that's cool and all but I'm kind of concerned. While I enjoyed the first film quite a bit, the second film was a bit of giant CGI mess, and the third did little to improve on that, if anything at all. A shame really, considering how much promise the original film had. They could have literally taken the story any number of directions — hell, I can remember three or four different conspiracy theories I had at the time. The fact that they're thinking of add two new scripts to the pile, both featuring Neo in some capacity, will at least give them another chance to surprise us with an interesting twist. The films will also be in 3D, so take that for what it's worth.
via ain't it cool
Tim is a pro-blogger and freelance writer out of San Diego, California. In addition to Fanboy.com, he contributes to the ModernMethod Network of sites as the Features and Reviews Editor for the Japanese culture and entertainment blog, Japanator. He's also an Assocaite Editor for their popular gaming blog, Destructoid, and the collectible toy culture blog, Tomopop. For more information, follow him on twitter, or check out TimSheehy.com.