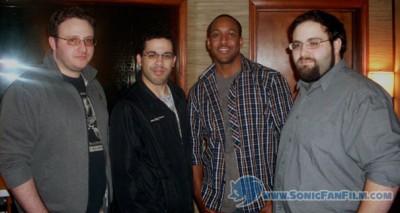 Last weekend I attended MAGfest in Alexandria, Virginia. For those of you who aren't already aware of the festival, it's a relatively small convention held annually which features videogame-themed concerts, panels, guests, and more. while I was there I noticed a few posters for an upcoming Sonic the Hedgehog fan film. The movie is being produced by Eddie Lebron, the same man responsible for that nifty Mega Man fan film released last year.I admit the prospect of a Sonic fan film raised some red flags for me. While I loved Sonic the Hedgehog as a kid, the series floundered after numerous attempts to transition into a 3D platformer in recent years. In addition, the fans haven't exactly struck me as a crowd I'd like to associate with — some of them are very fond of wearing furry suits in public. Needless to say it took quite a bit for me to investigate the project any further.
After looking into it however, some details were worth noting. For example, the character of Sonic — who will be completely rendered in CGI — will be voiced by Steve Urkle himself, Jaleel White. He's recorded Sonic's voice several times in the past for various cartoons. As for the plot, the director has stated that he wishes to make it action oriented similar to films like Die Hard and Raiders of the Lost Ark. I'm not quite sure how it'll work out, but I have faith that if it proceeds on this track, the film will shape up pretty well.
For more, check out the official site.

Tim is a pro-blogger and freelance writer out of San Diego, California. In addition to Fanboy.com, he contributes to the ModernMethod Network of sites as the Features and Reviews Editor for the Japanese culture and entertainment blog, Japanator. He's also an Assocaite Editor for their popular gaming blog, Destructoid, and the collectible toy culture blog, Tomopop. For more information, follow him on twitter, or check out TimSheehy.com.