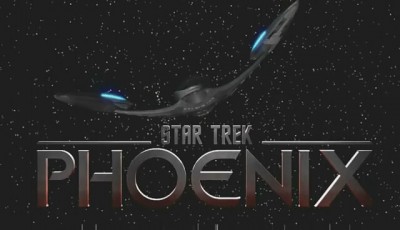 A few years back, Star Trek fans got together to produce a series of new episodes featuring the continued adventures of  the USS Enterprise and their five year mission. Star Trek: New Voyages, as they called it, featured decent production values and less-than-spectacular acting, but I had to hand it to them for trying. Of course, that series took far too long for them to produce in a timely manner. Now, it would seem someone else has taken it upon themselves to produce yet another fan series, Star Trek: Phoenix — this time opting for an original approach.
Rather than using established characters, the series takes place 42 years after Star Trek Nemesis. I'm not sure why they decided on such an arbitrary number, but seeing how it's completely non-canon, I'm sure they'll be able to have plenty of fun making up the timeline as they go along. The production values are seemingly higher than that of New Voyages — which is probably a good thing — and the acting is about as good as you should expect from a fan production.  If you want to check out the pilot episode, they have that online. Just head over to stphoenix.com for more information.
Tim is a pro-blogger and freelance writer out of San Diego, California. In addition to Fanboy.com, he contributes to the ModernMethod Network of sites as the Features and Reviews Editor for the Japanese culture and entertainment blog, Japanator. He's also an Assocaite Editor for their popular gaming blog, Destructoid, and the collectible toy culture blog, Tomopop. For more information, follow him on twitter, or check out TimSheehy.com.