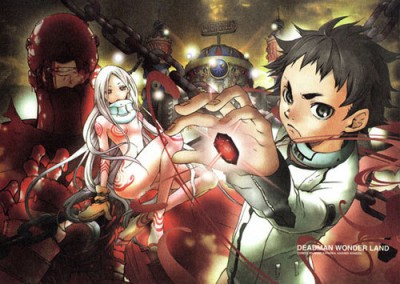 Graphic novel look of Deadman Wonderland
Japanese anime run on a four season schedule, so to be serious about this hobby, a fan must be aware of anime that is going to be happening in the following season. The next season is slated to begin from March until June. Referring to the chart below, anyone would realize that there is a number of titles already announced. From those announced titles, these are my ten choices to not just watch, but know that a lot more fans might be checking out.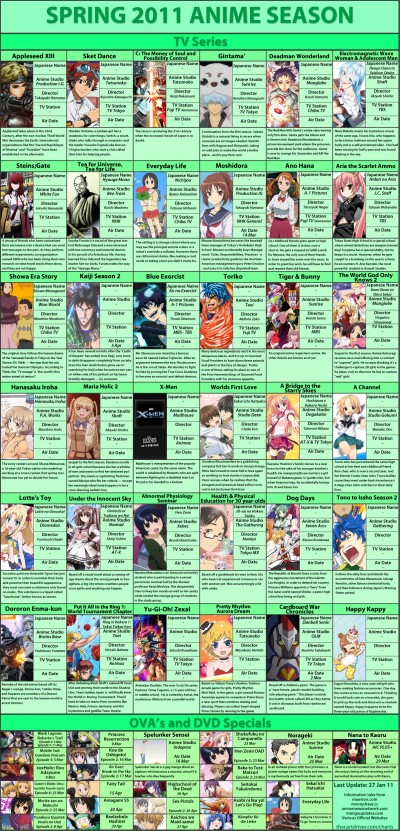 TheCartDriver.com created this wonderful Spring 2011 Anime release chart
1. Gintama: While taking a break to wait for more of the manga to be published, Gintama is slated to air again. In Shonen Jump lineup, Gintama definitely does not match the numbers of One Piece, yet Gintama has strong sale numbers in the appealing to older fans who want to have a laugh. It is a satirical show that has its epic Monty Python-esque moments.
2. Toriko: This is a food inspired Shonen Jump manga that has been published so far in 12 ongoing volumes. There has previously been a one episode OVA release to test the waters. It past and got green lit for a series. This unique gourmet food hunting is going to have a double billing movie project with One Piece at a later time this year. Who's appetite is bigger, Luffy or Toriko? Which would be your Shonen Jump hero preference?
3. Deadman Wonderland: If anyone has read my manga review on anime.com, then this is the anime version of that title. This series has already been delayed for several months. The manga is filled with mostly black and white images in a tormented survival race, but this series should be a visual feast for the eyes on how Wonderland operates. Comparing to the image above, what can fans expect and hope for?
4. Health and Physical Education for 30 year olds: What would it take for an otaku to have a normal relationship? This title is animating a bestselling Japanese guidebook that instructs an older virgin anime fan on how to date and have sex. There is going to be lots of people watching this show for laughs, but in a show meant for a culturally different nation, would the same advice and tips work on an American otaku?
5. X-Men: Recently Madhouse a Japanese animation company had been remaking American comics into animation series. Iron Man and Wolverine had already had that treatment, so now take a successful American comic, and what can viewers expect? Will it be accepted by American fans or appreciated by Japanese fans?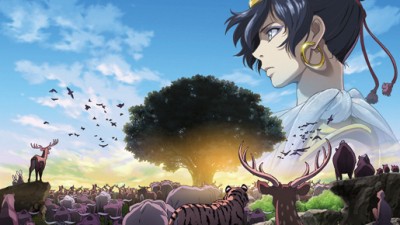 Buddha promotional image
6. Tezuka Osamu no Buddha: An animated account for the story of Siddhartha, the man who would become Buddha, a major world religion. This is only a movie, however this movie is going to be a trilogy. Anything that is Osama Tezuka should be a common fyi for manga/anime fans. The English translation of the eight volume manga series had been awarded an Eisner Award, and has countless critical reviews.
7. Blue Exorcist: Paranormal titles are always an interesting draw for fantasy or science fiction fans. For fans of titles like D Gray Man, Yu Yu Hakusho, or Soul Eater, wait to check out this new story on a protagonist who fights against his fate as the son of the devil.
8. Showa Era Story: As a slice of life plot draw, this is the story of a Tokyo family at 1964 during the Summer Olympics. The target audience for this television series and movie is going to be aimed for Japanese seniors and families. How successful the idea for this anime is yet to be seen.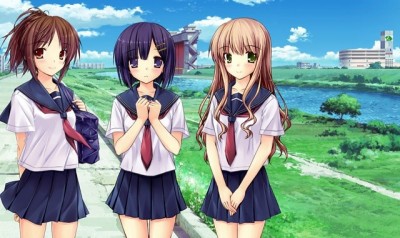 Moshidora Cover, at far left is the unconventional manager
9. Moshidora: Baseball is a national sport and past time for Japanese, just as it is a popular sport in the United States. There are plenty of manga or series about the subject of baseball, so what makes this particular Spring title unique, is the story from an unconventional manager, using a business publication to rally the spirits of an underdog baseball team.
10. Appleseed XIII: This is going to be the first television adaptation for this science fiction title, and it promises to be a retelling close to its manga source. There is already a OVA and two previous released film, and what stands out for this title is the usage of computer graphics several years ago. With a new adaptation, would there be an appeal to gaining new fans or an appeal to retain the existing/older fans?
Reading through this list, are there going to be any titles that is a definite watch or a definite miss? I know that I will keep my eyes peeled for the choices I wrote about.