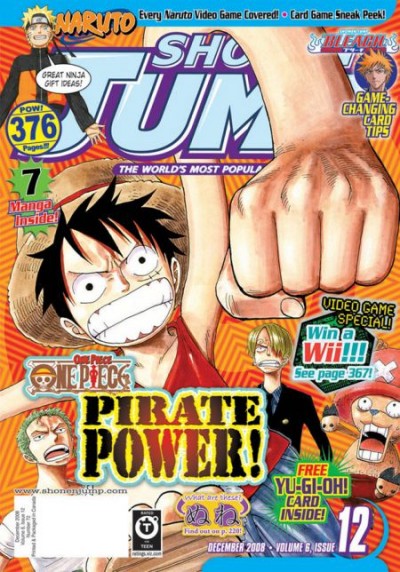 Initially released in 1968 at Japan, Shonen Jump is a still running manga magazine that targets the interests of young Japanese male readers. This is not to be confused with Shonen Sunday, which is another long running rival magazine that targets late teens to early twenties males. Now what does this got to do with the United States? Shonen Sunday and Shonen Jump, while rival publications abroad are both published in English by Viz Media. The premises of a Shonen Jump story has an easy to follow theme of a male protagonist, with a journey, conflict or antagonist to triumph over. This win is the result of morals, perseverance, loyalty, and friendship. Stories created from these concepts sold millions.
The imprint of the U.S. Shonen Jump, which can be explained simply as a monthly magazine that began in 2002, has been taken by Viz Media and unfolded into being more than just a magazine. Since Viz Media had made progress in producing DVDs, trading cards, fiction books, and video games, this article is only going to be focusing on its graphic novel imprint.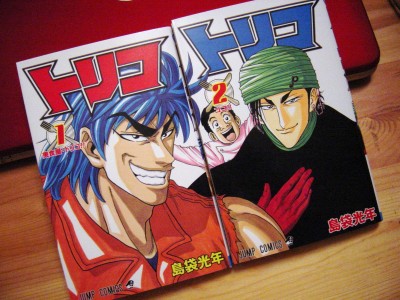 Toriko: I mentioned earlier, that this is the latest Shonen Jump to be an anime. Consider now the graphic novel. Does the fact that this body of muscle live in a Candy house attract anyone, or of how his visage turns into a demon when he fights others with his hands as a knife and fork? On his quest for creating his Ultimate Menu, there are definitely food to think about as Toriko eats and eats.
One Piece: Another main character that eats to the point that Luffy is eating even while he is sleeping. One Piece is a mega giant that broke Japanese publishing records, the manga is still going on, into volume 60 at this point. Embarked on a mission to become the Pirate King, Luffy is having adventures with his friends, defeating enemies that come on his path. As his wanted amount goes up, so does the lessons he learns.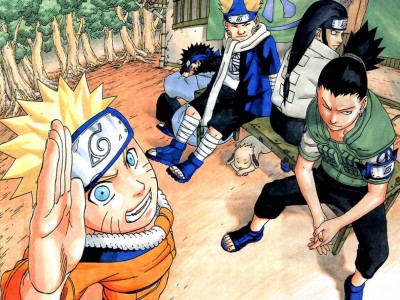 Naruto: The running joke on the internet is just what Naruto wouldn't do with ramen. This is an immensely popular title, and shows off the aspects of a Ninja way. Being the carrier of the Nine-Tailed fox, Naruto can be seen as a monster, but to others Naruto is a teen growing up, and trying to realize his true self, and dreams of becoming Hokage.
D Gray Man: No matter how Allen looks, he does eat large meals just about wherever he gets to feast out. Allen Walker is an Exorcist who is tasked with battling the Millennium Earl, and his army of demons. Holding the power of Innocence, Allen has a past that would make the "good" side question his intentions. He has a dream of wanting to save both humans and demons, and live in peace.
Bakuman: This is the latest Shonen Jump release from the team that created Death Note, another popular title in the United States. Though there is no endless stomach character in this title. This is a slice of life story on the process of becoming a popular mangaka creator that is part of Shonen Jump's lineup. Staring and reading how much drafts Mashiro must draw to practice or complete in a series, reminds me inevitably of the finished drafts I saw in an exhibit at the Studio Gihibli Museum. It was taller than my height.
Bleach: Recently there was an event that characters from Bleach trended on Twitter. Though the trend was the cause of the anime, the manga comes before the anime. Ichigo develops his ability as a Soul Reaper, and with his friends he must learn how to defeat lost souls known as the Hollows.
These are only a portion of Shonen Jump publications examples available in the United States market, lesser than titles appearing in Japan's Shonen Jump publication. However, these are titles that have earned money for Shonen Jump so for the foreseeable future, expect more from these titles.
Linda Yau is a fan of Japanese culture, and various anime/manga titles. She writes for other online publications under animemiz. Her main blog is here and she has Twitter.