Posted by Tim Sheehy on Feb 15, 2011 in
Videogames
|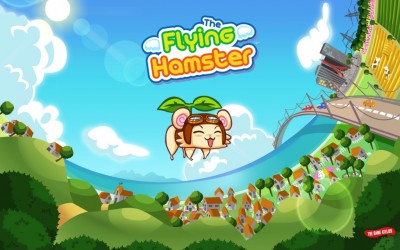 If you're a Playstation Plus user — and I know most of you aren't — you're in for a treat today. Sony passed along a free copy of the PS3/PSP mini  The Flying Hamster as their gift to you — just check your PS3 message box for a note containing an attachment that'll allow you to download it for free. I have to admit, I wasn't very optimistic with the initial offerings for Playstation Plus subscribers. For a paid subscription service, Xbox Live! looked far more attractive, with a plethora of content fuled by the seemingly endless stream of income generated by the enormous user base.
Since its introduction, however, my Playstation Plus subscription has more than paid for itself in discounts and free games — something I can't really say about the competition. Just last week they offered up a free copy of the critically acclaimed puzzle platformer Stacking — a $15 value. Add to that all five episodes of Sam & Max: The Devil's Playgound, and I was more than satisfide. I just hope I feel the same way when the subscription ends and I lose access to most of that free content. The least I could say about Xbox Live! is simply that you'd be able to keep what you download for free after reverting to a silver membership — and that's definitely something.
Tim is a pro-blogger and freelance writer out of San Diego, California. In addition to Fanboy.com, he contributes to the ModernMethod Network of sites as the Features and Reviews Editor for the Japanese culture and entertainment blog, Japanator. He's also an Assocaite Editor for their popular gaming blog, Destructoid, and the collectible toy culture blog, Tomopop. For more information, follow him on twitter, or check out TimSheehy.com.