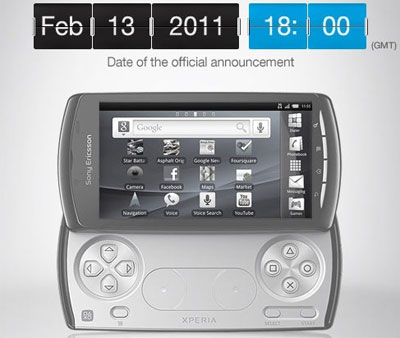 For well over a year now, there have been rumors of a Playstation phone. While most Sony kept their lips sealed, journalists had been left in the dark, wondering if there was an ounce of truth to it. A few months back, a video was leaked that showed a playstation one title being launched from a phone. Many journalists viewed that video with skepticisim and others ignored it completely. Now, it looks like the Playstation phone is quite real. Sony Ericsson recently confirmed its existence via their facebook, posting this image and encouraging us to keep an eye on their Facebook for the official announcement on February 13th.
I feel like I've been discussing Sony quite a bit lately, but if they keep announcing new products, I can't help but discuss them. Personally, I can't see myself wanting one of these. I'm pretty attached to my iPhone, but given the fact that this phone will feature the Android OS, it might be worth keeping an eye on. I don't think it'll be incredibly successful, but you never know. Let's just hope it won't end up being another N-Gage.
Tim is a pro-blogger and freelance writer out of San Diego, California. In addition to Fanboy.com, he contributes to the ModernMethod Network of sites as the Features and Reviews Editor for the Japanese culture and entertainment blog, Japanator. He's also an Assocaite Editor for their popular gaming blog, Destructoid, and the collectible toy culture blog, Tomopop. For more information, follow him on twitter, or check out TimSheehy.com.