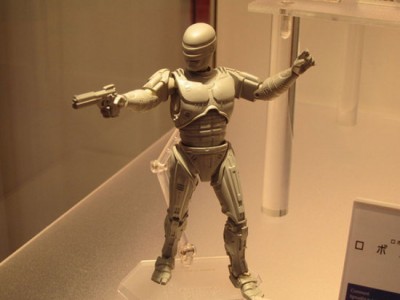 Last weekend marked Tokyo's 2011 Winter Wonder Festival, a show dedicated specifically Japan's booming toy market. There, skilled artisans are allowed to sell their custom garage kit models while companies like Kotobukiya and Max Factory show off their upcoming product lines. One of the more popular lines would be Max Factory's Figmas. The big selling point on these figures, in addition to being incredibly affordable, is their small joint sizes, allowing for good amount of articulation. They also tend to come with interchangable parts — such as heads, or arms — and accessories to match each figure.
Most of the time, Figmas tend to stick to Japanese licenses — by that we mean, anime, games, and the occasional Sentai. On rare occasions however, we're treated to something else. For example, they produced a Michael Jackson figma based on his appearance from Thriller. This time, they've managed to secure the license for Robocop, and from the looks of the prototype above, it'll be astounding. The gun will probably be detachable and they might include an open helmet for Murphy, but that'll remain to be seen. I seriously hope a compartment opens up on the leg for a holster, but that's probably just wishful thinking. No word on when it'll be ready for pre-order.
found via Tomopop
Tim is a pro-blogger and freelance writer out of San Diego, California. In addition to Fanboy.com, he contributes to the ModernMethod Network of sites as the Features and Reviews Editor for the Japanese culture and entertainment blog, Japanator. He's also an Assocaite Editor for their popular gaming blog, Destructoid, and the collectible toy culture blog, Tomopop. For more information, follow him on twitter, or check out TimSheehy.com.