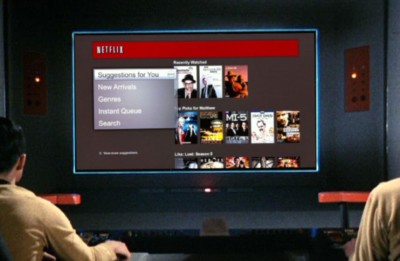 Those of you who were waiting for the various Star Trek television series to hit Netflix this month will be disappointed to know that they'll have to wait a little longer. Trek Movie recently confirmed that the original series, Star Trek: The Next Generation, Star Trek Voyager and Enterprise won't be available for instant streaming until July 1st. Deep Space Nine fans will have to wait till October. Why? Don't ask me — the wait seems rather arbitrary, but I'm sure there's a reason.  Unfortunately, most of these series won't be available in HD. Enterprise was shot more recently, and the original series has also been remastered, so both of those will be.
We may see some other CBS programming appear in the meantime, but until then, all we can really do is wait. If you need some suggestions for what to watch while you wait, you can always check out the original Firefly, Battle Star Galatica, or Terminator the Sarah Connor Chronicles, all of which are currently available for instant streaming via Netflix.
Tim is a pro-blogger and freelance writer out of San Diego, California. In addition to Fanboy.com, he contributes to the ModernMethod Network of sites as the Features and Reviews Editor for the Japanese culture and entertainment blog, Japanator. He's also an Assocaite Editor for their popular gaming blog, Destructoid, and the collectible toy culture blog, Tomopop. For more information, follow him on twitter, or check out TimSheehy.com.