Dr.Who Lost crossover t-shirt
I can't really say this would make for an awesome t-shirt but I really can't pass up a chance to comment on this nifty work by artist and designer FFTKrazee. A clever little crossover between two of our fanboy favorites, Lost and Dr. Who, the design depicts Desmond, Faraday leaning up against a DHARMA-brand TARDIS. I never really thought about it until someone mentioned it in the comments for the shirt, but Jeremy Davies always looked like a sad Keanu Reeves.
Any way, FFTKrazee has been making shirts for awhile now and last year he created a similar design featuring the DHARMA duo with Doc Brown's DeLorean. It made for a slightly better t-shirt which you can still order through his redbubble store, but it'll be $24. Expensive, I know. If you'd rather save some cash, you can pick up the Dr.Who crossover t-shirt from TeeFury for only $9. Hurry though, because like all TeeFury designs, the deal is only good for the next 24 hours.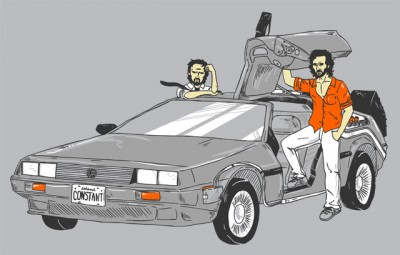 Tim is a pro-blogger and freelance writer out of San Diego, California. In addition to Fanboy.com, he contributes to the ModernMethod Network of sites as the Features and Reviews Editor for the Japanese culture and entertainment blog, Japanator. He's also an Assocaite Editor for their popular gaming blog, Destructoid, and the collectible toy culture blog, Tomopop. For more information, follow him on twitter, or check out TimSheehy.com.