Posted by Tim Sheehy on May 3, 2011 in
Television
|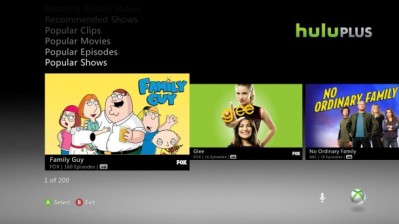 Those of you who've been waiting patently for Hulu on Xbox Live! are in luck. Last week, Microsoft launched support for Hulu's service Hulu Plus, which delivers select content — mostly network television sans the CW, complete with commercials — to customers willing to pay $7.99 a month. To be honest, it's not too unreasonable.
While Netflix may not force you to sit through advertisements, their selection is often limited to what's available on DVD. For example, while Netflix may offer the first two seasons for Fox's Lie to Me, the third season is currently available on Hulu. In short, if you're looking for a way to catch up on recently aired episodes, or want access to Hulu's arguably larger Television offerings, as well as the entire Criterion Collection,  its price may be justified.
I should also note that users who purchase a Hulu Plus membership can then use it to stream video to other decvices such as compatible internet-connected televisions, iDevices, and more. Addition, it'll also allow you to stream content in HD. Finally, I encourage anyone who may have taken one look at the App store review score for Hulu and turned their nose up to reconsider. The application works perfectly with a Hulu Plus subscription. It just seems as though Mac users are under the impression that everything on their device should be free, including subscription-based services that everyone else is used to paying for.
Tim is a pro-blogger and freelance writer out of San Diego, California. In addition to Fanboy.com, he contributes to the ModernMethod Network of sites as the Features and Reviews Editor for the Japanese culture and entertainment blog, Japanator. He's also an Assocaite Editor for their popular gaming blog, Destructoid, and the collectible toy culture blog, Tomopop. For more information, follow him on twitter, or check out TimSheehy.com.