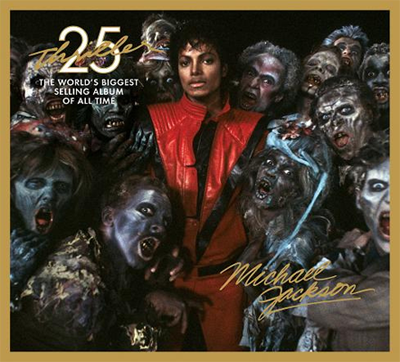 Music fans— and horror fans — will doubtless nod knowingly when they hear that Michael Jackson's trademark red and black leather(-that-looks-like-vinyl) jacket from the music video for "Thriller" has sold for US$1.8 million dollars at auction. That's nine times the initial estimate of "at least $200,000." That's a damn high price, even if you factor in that the jacket is signed.
My question is, which would you guys rather have: the "Thriller" jacket? Or your choice between Superman issue 1 and Detective Comics issue 27 (which featured the introduction of a hero called "The Batman")? Last year geek sources went crazy when Superman #1 sold for $1 million— followed only four days later by Detective Comics #27 selling for US$1,075,500.
Combined, the two comics value higher than the "Thriller" jacket…but not by as much as we might have expected. Which of the three items do you guys think would be the most prestigious addition to a nerd's collection?