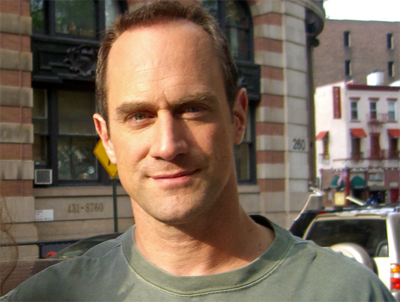 Image © Rachel Lovington
You may not recognize the name Chris Meloni, but I guarantee you'll recognize his face, seeing as for the past 12 years he's been one of the two primary faces on Law and Order: Special Victims Unit (the other being the talented Mariska Hargitay). Word on ComingSoon.net is that Meloni, who is departing SVU for greener pastures (or at least less "blue" ones…get it? Cop uniforms? No? Okay then!), will play "a general" in Zack Snyder's upcoming Superman flick, Man of Steel. So no, everyone who thought he'd play Lex Luthor is (sadly) wrong. But…
I know, I know, the first "general" you probably think of in connection with Superman is General Zod, who appeared in the first two films way back when (played by Terrence Stamp). Well, Zod will appear in the movie, but he's already been cast; Boardwalk Empire's Michael Shannon will play him.
Now, admittedly, I'm not very up on my Superman knowledge, but I did find another general within the universe….General Sam Lane, Lois' dad. Who is already rumored to be appearing in the flick as a villain. And hey, he's already played an over-protective (ex-)military dad on SVU. Sure, it could come to nothing, but it's a fair bit of coincidence, for rumors, no?
Meloni isn't completely new to the superhero game; in 2009 he voiced Hal Jordan (the Green Lantern) in the video game Green Lantern: First Flight. (And on a non-superhero, but nostalgically geeky note, Meloni also voiced Spike— pal to series' son Robbie — in the 1991 puppet sitcom Dinosaurs. Yeah, when was the last time you thought of that show?
Gia Manry is a Texas-based geek who you can hire. Or you could just follow her on Twitter.