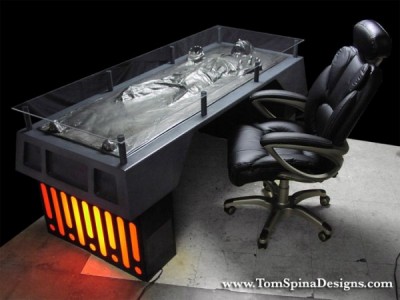 As Jabba would tell you, nothing says you're the boss like your very own smuggler frozen in carbonite. Sure, you could just mount him on the wall of your pleasure palace, but why not find a more practical use for it? The guys at Tom Spina Designs did when they created their own custom Han Solo carbonite desk. It's truly an amazing piece of functional fanboy art, I just wonder how much they'd charge us for one of our own. I wasn't able to find a price quote on their official site, but they do have plenty of other great props, and furniture you can browse. After all, why wouldn't you want your own galactic throne.
Tom Spina Designs via Collider
Tim is a pro-blogger and freelance writer out of San Diego, California. In addition to Fanboy.com, he contributes to the ModernMethod Network of sites as the Features and Reviews Editor for the Japanese culture and entertainment blog, Japanator. He's also an Assocaite Editor for their popular gaming blog, Destructoid, and the collectible toy culture blog, Tomopop. For more information, follow him on twitter, or check out TimSheehy.com.