I'm still a little sad that I haven't had a chance to catch an episode of Puella Magi Madoka Magica. Last season, the show managed to garner quite the following and it wasn't long before Aniplex decided to license the series for international distribution. On top of that, I had to deal with all my friends talking my ear off about the series despite the fact that they were totally spoiling it for me. Nevertheless, I'm still hoping to squeeze it in before the end of the summer and it helps that the show's not-so-lovable mascot of sorts happens to be absolutely adorable. I've been seeing that wish-granting Kyubei all over the place since the series aired, but nothing I've come across looks as awesome as this giant vinyl replica — in fact, it's made to scale. Japan's largest figure trade show Wonfes is right around the corner, and lucky attendees will be able to pick one up while they're there, but if you can't make it, you might be able to score one online by following the instructions of Good Smile's official website. From what I gather, it'll retail for roughly $125 before shipping. It's a bit pricey, but I think in this case, the ends justify the means.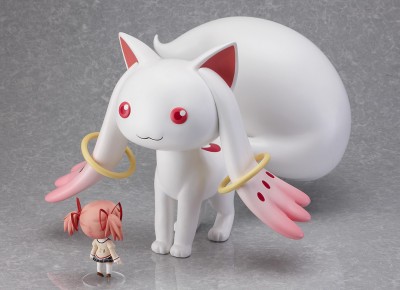 found via Mikatan's blog
Tim is a pro-blogger and freelance writer out of San Diego, California. In addition to Fanboy.com, several outlets he's written for include the Japanese culture and entertainment blog, Japanator, and the collectible toy culture site Tomopop. For more information, follow him on twitter, or check out TimSheehy.com.