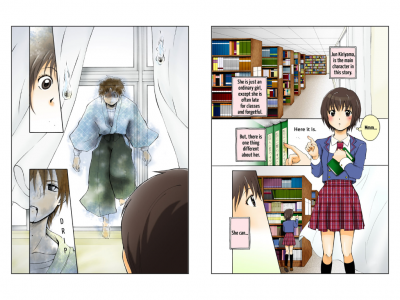 In the past one of the problems with ebook readers is that it's difficult to read small text, and this has made it difficult to read graphic novels from the print world. However today with the iPad and similar devices new worlds have opened up for graphic novels fans. Many established companies like Viz and Dark Horse have jumped onto this bandwagon, but now outsider companies from abroad are joining these ranks.
NTT Solmare is the parent company of ZQ books. This is a Japanese mobile company, who is known to distribute graphic novels on Japan's own mobile network. In the early part of 2011, ZQ Books was made avaliable on the U.S. Apple Market. ZQ Books release English translations of manga that would otherwise not be picked up for publication, by the usual American graphic novel publishers for various reasons. Reasons can include on who would think about buying this type of manga? The image below is an example of a manga being sold on ZQ Books about an Osaka newspaper editor.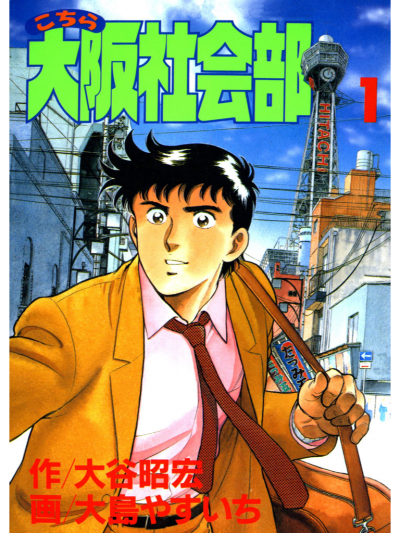 This is a growing step when Japan begins to take charge of distributing their content abroad. In United States there have been some issues with Japanese companies going to court with their American licensing companies. Having the availability of ZQ Books satisfies readers and fans who want to legally enjoy products in 31 different countries.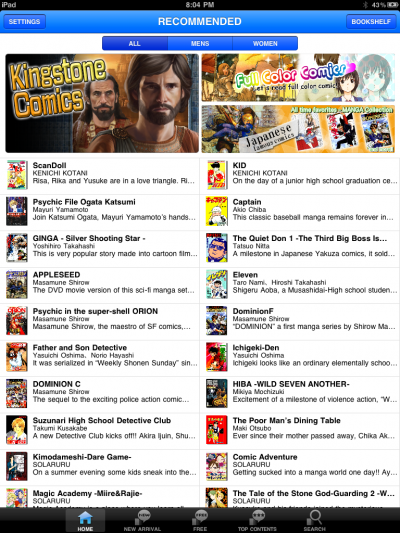 Image of ZQ Books Home Page displaying their catalog.
In the app itself, there is already a large catalog of graphic novels separated by seinen or josei titles. This is the market targeted for adult men and women. Titles avaliable have themes of salary man, romances, horror, slice of life, and sports etc. There is even small collections of full color titles, bible story themed, or famous Japanese comics like Appleseed. If you happen to consider the title, you can download a short preview. Reading the entire work after the preview though is $2 for each chapter, and $5 for an entire volume. ZQ Books also offer sharing content between the iPad and the iPhone of two or three machines. So if you are an iPad owner and a graphic novel fan, how about checking out the collection of what ZQ Books has to offer.