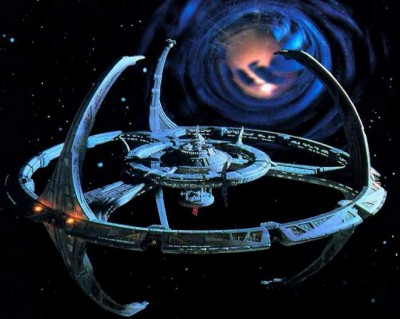 As many of you are already aware, Netflix recently secured the license to stream every Star Trek television series ever created via their online service. With the exception of Star Trek: Deep Space Nine, every episode of the original Star Trek, Star Trek: The Next Generation, Star Trek: Voyager, and Star Trek: Enterprise have been added to its online library, so I've spent the last few months slowly feeding my craving for classic Trek. While Netflix subscribers may have to wait until October for Deep Space Nine,  Amazon.com announced that every series, including Deep Space Nine, is now available to stream via their Amazon Prime service.
I'm excited about not having to wait, and I like that Amazon is constantly expanding their content, but it would be really nice if they could deliver the service to a wider range of devices, like game systems or televisions. Like Netflix, both Enterprise and the original Star Trek are available in high-definition, while the other shows are only available in standard-definition. While the higher-def episodes look great on both services, its reported that the standard definition shows may look slightly better on Netflix.
Tim is a pro-blogger and freelance writer out of San Diego, California. In addition to Fanboy.com, several outlets he's written for include the Japanese culture and entertainment blog, Japanator, and the collectible toy culture site Tomopop. For more information, follow him on twitter, or check out TimSheehy.com.