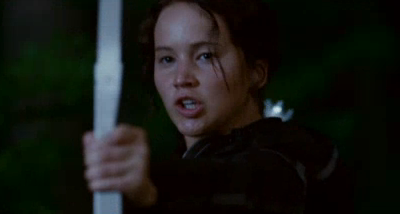 You could pretty much skip MTV's Video Music Awards this year…unless, of course, you're dying for the upcoming film adaptation of Suzanne Collins' The Hunger Games young-adult dystopian novels. In which case you'll be thrilled to hear that Jennifer Lawrence, who will star as the series' Katniss Everdeen, revealed a smidgen of footage. You'll see Katniss and a bit of the grounds where she must fight, as well as hear a voice that we can safely assume is either her childhood friend Gale or her partner in the titular (and deadly) Games, Peeta. Here's the video!
The books have proven to be impressively popular— not Harry Potter levels, of course, but surely above expectations —and that should come as no surprise. One part 1984, one part Lord of the Flies, one part Battle Royale, the book's heroine must take part in the cruel Hunger Games, an epic fight to the death between two representatives from each of 12 districts in order to appease the Capitol, who quashed the districts' rebellion years before. The movie's coming out in March, so if you haven't gotten the chance to try out the books, go ahead and get started! (They won't take you long!)
Gia Manry is a Texas-based geek who you can hire. Or you could just follow her on Twitter.