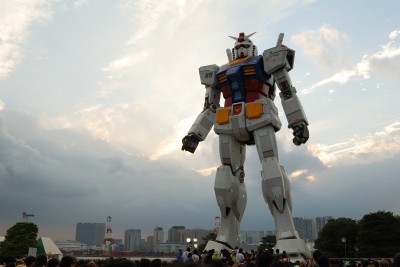 I never had a chance to see it person, but Odaiba's full-scale Gundam statue had served as a magnet for giant robot enthusiasts and tourism from around the globe. I had hoped to catch a glimpse of the statue after it had moved to Shizuoka, but the statue was dismantled at end of March. Given the recent drop in tourism, I've wondered if we'd ever have another chance to see the statue again. It doesn't look likely, but Sunrise Studios recently announced plans to display at least a portion of the statue in Odaiba later this month. Starting Sunday, August 21st, visitors to Odaiba island's Shiokaze Park can pay 500 yen to gain admission to the event between the hours of 6 AM to 10 PM. No word on which parts of the statue will be on display but guessing by the image on the official site, I assume it'll be the head. Sure, it's not the full statue, but it's still a piece of history and definitely worth checking out.
photo via Aaron in Japan
Tim is a pro-blogger and freelance writer out of San Diego, California. In addition to Fanboy.com, several outlets he's written for include the Japanese culture and entertainment blog, Japanator, and the collectible toy culture site Tomopop. For more information, follow him on twitter, or check out TimSheehy.com.