Posted by Tim Sheehy on Aug 10, 2011 in
Television
|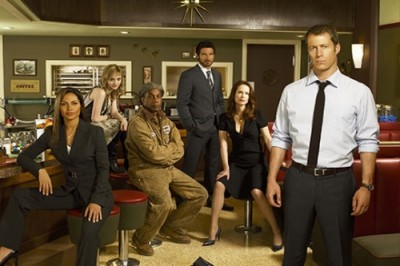 If you're a fan of Syfy's Eureka, you're probably already sulking about this, but it wouldn't be fair to ignore this piece of sad news. Syfy announced this week that they've reversed — yes, read that again, reversed — their decision to renew the series for another season. Last week the network announced plans to renew the series with six more episodes, and had even denied rumors that pegged those episodes as being the end of the series. To add insult to injury, the fifth season of the show hasn't even aired yet and will finish filming later this week. Naturally the writers will be forced to rewrite what has now become the series finally before it they shoot this Thursday. 
While I don't watch the Eureka religiously, I know its fans are very passionate about it. I recall attending last year's San Diego Comic-Con panel and the room was absolutely packed. Syfy even went as far as to rent out a restaurant and themed it around the show — a shame that they'd be so quick to abandon it. According to Wil Wheaton, who recently landed a recurring role on the series, the network informed the press of the cancellation without even mentioning it to the cast or crew first. He was as surprised as anyone having also believed that the series would continue for at least one more season. That's kind of sad if you ask me. Are any of you upset about the news?
Tim is a pro-blogger and freelance writer out of San Diego, California. In addition to Fanboy.com, several outlets he's written for include the Japanese culture and entertainment blog, Japanator, and the collectible toy culture site Tomopop. For more information, follow him on twitter, or check out TimSheehy.com.