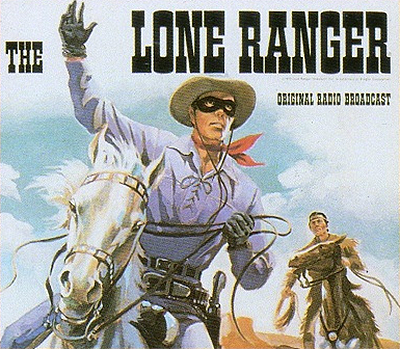 I confess that of the 16.2 zillion reruns I caught as a kid, the 1950s'The Lone Ranger isn't one I particularly took to— I was more of a Zorro girl— but plenty of nerds grew up with Kemo Sabe and Tonto, whether as a new radio/television series or in rerun form, and I was certainly interested in Johnny Depp's take on the character (I haven't reached critical mass on Depp flicks, apparently).
Unfortunately, production on the flick has just been shut down.
Even fanpersons who aren't into westerns may have a particular interest in The Lone Ranger— not just as a different take on the masked hero, but because it was in fact the predecessor to The Green Hornet, whose radio show launched in 1936 as a spinoff focusing on the Ranger's nephew's son. (The comic book series didn't start until four years later.) So yes, the film would have had plenty of nerd cred, even if you feel like it was more your father's kind of fandom, dear readers.
Unfortunately it seems unlikely to see the light of day, even with Depp's involvement…which would have been as Tonto, by the way; Armie Hammer (best known for his turn as Cameron Winklevoss in The Social Network, although other audiences may know him as Gossip Girl's Gabriel Edwards) was going to play the title Texas Ranger. Word at the Chicago Sun-Times is that the film had "budget issues," but that might have just been code for "we don't think it'll make back its budget," particularly in the wake of Cowboys and Aliens' mediocre showing.
On the other hand, given the wide variety of terrible television remakes (and Depp's less-than-spotless record for caricature roles), this cancellation could be a blessing. Besides, with Rick Perry now officially running for the Republican presidential nomination, we may have more than enough Texas set for the screen. (Trust me; I live here.)
Gia Manry is a Texas-based geek who you can hire. Or you could just follow her on Twitter.