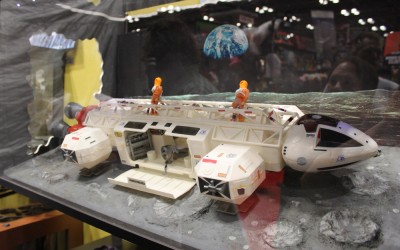 Part of the joy of New York Comic Con is that it's part party — but it's also like running through a giant attic that's filled with various bits of your childhood! I was really happy to come across this origional Mattel Eagle 1 Spaceship on display: the funny thing is that when I was a child it seemed so much larger. This wonderful Space:1999 display was the handy work of Geek box Display Cases who had a booth at the show — they're based in Hillsborough, North Carolina and you can find their website here and their Facebook page here.
Here's a fan made video we found for reference:
Photo by Christian Liendo.