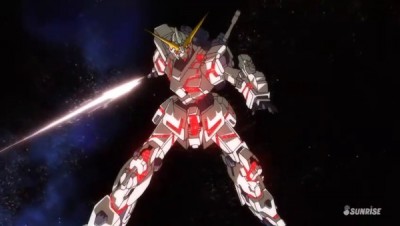 Not to long ago, From Software announced they were developing a PS3 game based on the latest entry in the Mobile Suit Gundam saga, Gundam Unicorn. Seeing as the series of OVAs are still in production, the game will only cover the first three episodes to date, and should include most, if not all, of the mobile suits depicted in them.  According to a recent issues of Famitsu, developers have been working to increase the speed of the gameplay while trying to take into account the heavy feeling associated with piloting a mobile suit. I'm not really sure how the two will mesh, so I hope they can find some middle ground. They also mentioned that Sunrise — the studio responsible for the anime, seemed rather impressed with the level of detail they've captured with the in-game models.
Among some of the other features mentioned, include seamless on-screen transformations, copious amounts of voice overs that include characters like Banagher, and Frontal — though, still no mention of Char. Maybe as a hidden character? Wishful thinking, I guess. The in-game scenarios will also overlap, so completing some of one path for a character might unlock another character, and so on. Seems really similar to Koei's Dynasty Warriors: Gundam in that regard. Likewise, a lot of the story seems to take place using CG or the in-game engine for cutscenes, though there may also be some anime included.
No word on how the game will actually control, but it should be worth mentioning that From Software is also responsible for other giant robot-related games such as Armored Core, as well as Another Century's Episode — a Japanese exclusive featuring an amalgam of mecha from numerous animated series. Unfortunately, it'll never the light of day stateside due in part to the sheer number of licenses involved. As for Gundam Unicorn, the game should release in Japan sometime next Spring, which means we could see it as early as next Fall. If Namco Bandai has anything to say, we might even get a 360 port, so keep your fingers crossed.
[famitsu via andriasang]