Posted by Tim Sheehy on Dec 20, 2011 in
Videogames
|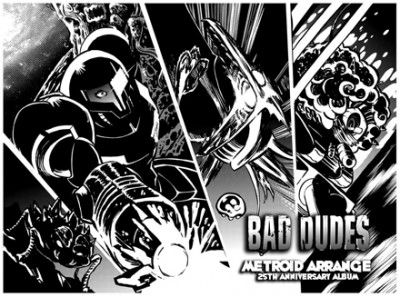 The Legend of Zelda isn't the only Nintendo franchise to celebrate its 25th Anniversary this year. Although its hardly their most popular, Metroid is among the most successful franchises to ever grace Nintendo's catalog. The series is also having its 25th anniversary and, while I'm uncertain as to why Nintendo failed to shine a spotlight on it, fans have taken to crafting their own musical tributes to the franchise. Today, Bad Dudes Music released a limited edition arrangement album, entitled simply Metroid Arrange 25th Anniversary Album to commemorate the occasion — for the record, I contributed to an arrangement of my own to the project.
With over 70 minutes of arranged music, this limited edition set comes complete with a special double-sided poster by artists Brianne Drouhard and Steph Laberis, with a special four-page comic and additional disc art by Maximo Vitaly Lorenzo. Only a thousand physical were printed, 900 of which are available exclusively through BandCamp.com, and retails for just $13.99. Digital copies are currently available via Band Camp, iTunes, or Amazon Music, however purchasing the album via Band Camp will net you a digital copy of the album art, disc art, posters, liner notes, Maximo's four-page comic and a bonus track. Suffice to say, it's a must-have for anyone who considers themselves a fan.
OverClocked Remix also released a tribute earlier this year, entitled Harmony of a Hunter. While it's free, the EP is only available for download. Personally, I wasn't thrilled with the entire project, but there's quite a few gems making it worth checking out.