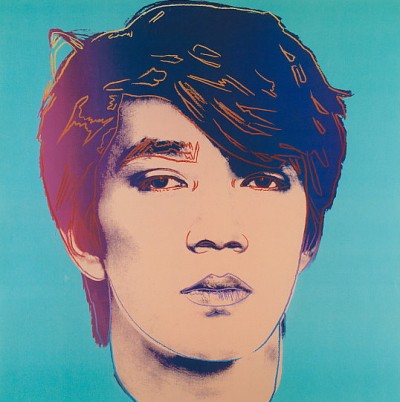 Since the late 70s Ryuichi Sakamoto has been a musical powerhouse of J-pop and numerous film soundtracks. He got his start playing the keyboards with the pioneering electronic music band Yellow Magic Orchestra (YMO) from 1978 until the group broke up in 1983. After that he went solo and also produced records for quite a few other artists in addition to working on movie scores. One of his first soundtracks was for the 1983 film Merry Christmas, Mr. Lawrence. Of course as an anime fanboy my favorite from the 80s was the soundtrack to the 1987 film Royal Space Force: The Wings of Honnêamise.
Special note: After I posted this initial story Nick Kent game me a fanboy worthy detailed bio to add to this story:
Since the late 70s Ryuichi Sakamoto has been a musical powerhouse of J-pop, international film soundtracks and numerous other genres from avant garde to bossa nova. After graduating university with a music composition degree he gained a reputation in the Japanese music biz as a keyboard wizard who could compose, arrange and play synthesizers gaining the nickname "The Professor". His first mainstream solo album "1000 Knives" was released in 1978 but in terms of the highest levels of pop music success he was faced with the challenge in that while he occasionally sings he really needs a collaborator to create pop songs. . While not a problem in some genres it is a notorious challenge to sustain a mainstream pop career playing instrumental music.
In 1978 he also became involved with the high concept band project Yellow Magic Orchestra (YMO) with two other studio musicians whom had all worked together in recent times. The initial one-shot idea was to play the sort of fantasy Asian music Western composers come up with only using the latest technology including the sounds of video games. The debut album did catch on and they were given more offers including being signed and touring Europe and the U.S., something only a tiny handful of Japanese bands had ever done on a relatively small scale. Given all 3 YMO members also were working on their own solo projects and producing numerous pop tracks for other artists, also participating in the still growing success of YMO took it's toll. It was decided to take 1982 off to work on other projects then spend 1983 wrapping up YMO by years end.
Sakamoto spent much of 1982 co-starring in and scoring Merry Christmas, Mr. Lawrence which was released in 1983 and starred David Bowie. Set in WWII it was scored using piano and synthesizer. It won the British BAFTA award for best score.
In the later half of the 80s he co-scored or supervised soundtracks on a number of projects. On the "Last Emperor", Sakamoto composed the largest portion of the score for orchestra. Interestingly Talking Heads' David Byrne wrote a bunch of cues earlier in the movie on synths and samplers, Chinese composer Cong Su also composed some tracks. They all shared the Academy Award for best score. "The Last Emperor" also contained Sakamoto's only other larger acting role as the Japanese ambassador who was pulling all the strings around the puppet king.
Of course as an anime fanboy my favorite from the 80s was the soundtrack to the 1987 film Royal Space Force: The Wings of Honnêamise and it still remains his one major association with Anime. He came in on the project during pre-production before the animation and recorded some themes which were then used to help pitch and finance the project. Then given the large amount of music needed for the finished feature, he supervised and produced a number of his associates arranging and writing the numerous cues. YMO participated on a number of tracks for "Appleseed: Ex Machina" (2007) though the bulk of the score wasn't their work. On the subject of scores made up of multiple artist's works, many key scenes in the movie "Babel" (2006) used existing Sakamoto recordings though the film also had an original score by another composer.
In YMOs original years there was always a sort of ironic and comedic undercurrent weaving in with the music. Two of their albums went so far as to feature short sketches by a comedy ensemble between each track. The 2000s saw a very gradual reuinion over the span of a decade. 2001 saw a surprise TV comedy routine of them made up and dressed as elderly retirees playing YMO tunes in some little Tokyo apartment. After a whole decade of intermediate steps, by 2009 they were officially YMO again. They played their first U.S. shows in over 30 years in LA and SF last summer but as always, Sakamoto as well as the other members have quite a number of other projects going on their own.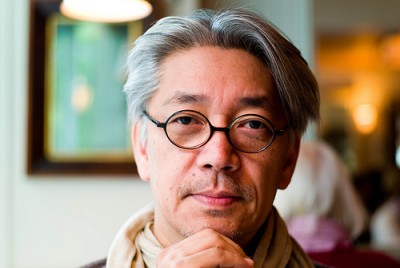 Yellow Magic Orchestra (YMO) – Computer Game from 1978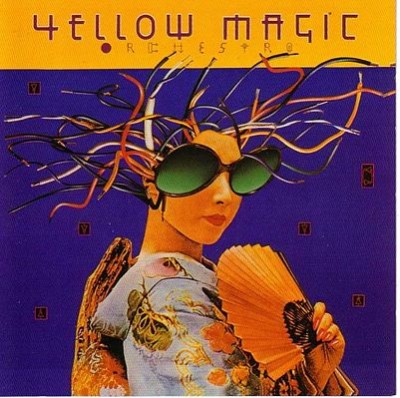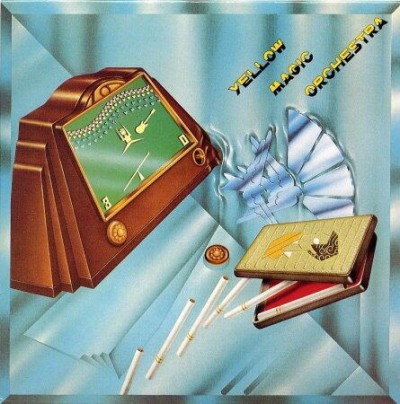 The American and Japanese cover art from the 1978 album Yellow Magic Orchestra (album).
Yellow Magic Orchestra – Cosmic Surfin'
Ryuichi Sakamoto soundtrack for Merry Christmas Mr. Lawrence
Ryuichi Sakamoto – Royal Space Force Main Theme
Ryuichi Sakamoto – The Last Emperor (Theme)