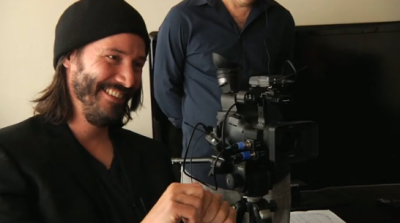 I've been fascinated by the digital vs. film argument that's been going on for a bit now. 24 frames per second or 48? Texture and grain or crisp and clean? Have we been too accustomed to film to appreciate digital cinematography? I personally love the look of traditional film, but it's a very nerdy subject to be sure, as many people hardly can tell the difference (or don't care). Yet, I still am incredibly interested in the topic – and so are Chris Kenneally and Keanu Reeves who are creating a documentary about the different perspectives in the film industry relating to digital and film cinema. Click through for the trailer, featuring interviews with George Lucas, Christopher Nolan, James Cameron, Martin Scorsese and more.
No matter where you fall in the discussion, it's great to see people of differing viewpoints but all still loving cinema in one place. Although, James Cameron is certain to stir the pot with his line, "film has been dead in my heart for ten years." Check out the trailer below!
Side by Side Official Trailer (2012) from Company Films on Vimeo.