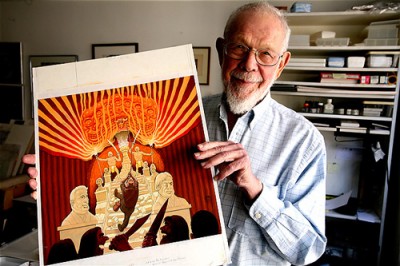 Hey wow, now you can own every Fold-In Al Jaffee ever did for Mad Magazine! (But only 1964 through 2010; you'll have to wait until 2058 to get last year's worth.) That is, you can if you're willing to drop $79 for the just-published 4-volume hardcover slipcase edition. However it would've cost you quite a bit less last night if you bought it at the Museum of Comic and Cartoon Art in downtown Manhattan – and Al, who was on hand would probably have signed it for you. The occasion: a celebration of the book's release.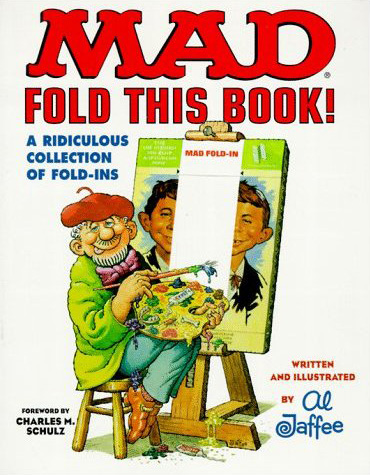 An SRO crowd filled the museum's narrow main gallery – and there was also an impressive line-up in front of the room: illustrator Arnold Roth, Mad's art director Sam Viviano, comics writer Arie Kaplan… and who's that soft-spoken, little white-haired, white bearded fellow next to moderator Danny Fingeroth? Oh, that's Al.
Al explained his inspiration for the fold-in ("I was a freelancer – I needed to put food on the table") but the main focus of the evening became a 'good old days' session, focusing on the legendary Harvey Kurtzman, the sun around whom so many mega-talented and demented cartoonists orbited. (Arnold: "I think he dreamed up publications just to hire people he liked;" Al admitted "Harvey had trouble meeting deadlines," perhaps because of his constant urging of his cartoonists to "noodle it up some more.")
It wasn't all Kurtzman (or Will Elder, whose shenanigans back then were also cheerfully recounted) all the time; Al walked us through his through his career his younger days and the career path that led him to Mad's inside back cover.
Al's other great contribution to western civilization: the Snappy Answer to Stupid Question, which became another regular feature in the magazine. Cartoonist Cliff Galbraith recounted the childhood incident that earned him a slap in the face from Dad: "when my aunt said 'my, you've grown so much,' I cleverly said the snappy answer I'd just read in the back seat on the drive over: 'that's too bad, I was hoping to stay a midget all my life.'"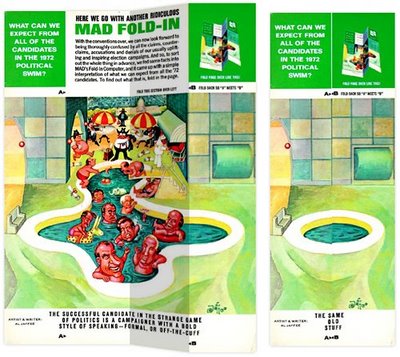 By the way, it's Al's freakin' 91st birthday just around the corner on March 13th. The man evidently has no intention of folding it in anytime soon.