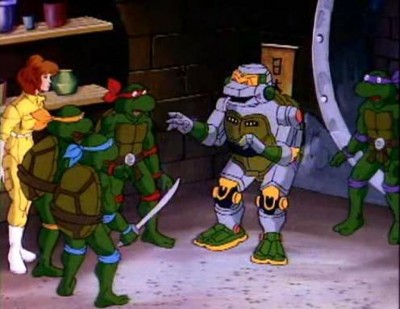 I remember a time when the only thing Michael Bay did to ruin a film was add a few too many explosions. Now he seems content ruining our favorite Saturday morning cartoons — I'm not sure how we let it come to this, but something tells me it's all you who went to see Transformers in the theaters, just to stare at Megan Fox. Earlier today, Michael Bay caused a bit of a stir when he let slip that his upcoming Teenage Mutant Ninja Turtles film wouldn't feature any mutants, but rather aliens. Yeah, that's right, he actually said they'd be from an alien race, so let me ask — was sitting through three of films starring Shia LaBeouf really worth this?

Here's the actual statement from the presentation:
"When you see this movie, kids will believe one day that these turtles do exist, when we're done with this movie. These turtles are from an alien race, and they are going to be tough, edgy, funny and completely loveable."
Who knows what he really meant by that, but lets hope he just misspoke about aliens. It's one thing to let Vanilla Ice rap about ninjas, but retconning and rebooting the entire series is taking it a bit too far, don't you think? Next thing you know, you'll be having arguments with your kids or nephews about the origins of splinter, or explaining to them why the film differs so much from the comics.  Who even knows if Bay intends on stopping there. The film won't even hit theaters until Christmas 2013, but I don't intend to find out.
[news via Stuff We Like]