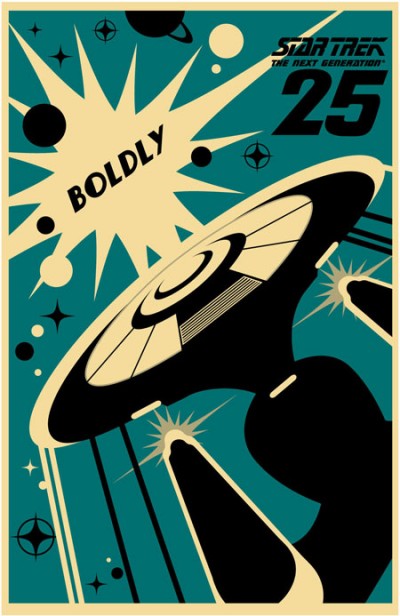 There won't be an official Star Trek panel at San Diego Comic Con, but that doesn't mean there won't be plenty of Star Trek-related content this year. CBS is handing out 1701 free Star Trek the Next Generation 25th Anniversary posters throughout the weekend. To find out how to pick one up, you'll have to swing by their booth (#4129) for more info. They'll also have collectible postcards available. Alternatively, you can follow the official StarTrek.com twitter feed for updates on when they'll be handing both the postcards and prints out.
Hasbro will likely be showing off some of their upcoming KRE-O Star Trek building sets. The sets themselves won't be out until next year, but if you're looking to keep up to date on the latest developments, you'll want to stop by Hasbro's booth, located at #3213. Her Universe will also be selling their line of Star Trek-related apparel at booth #2931F. If you're just looking to snag some autographs, Brent Spiner, LeVar Burton, and Marina Sirtis will be on-hand through out the show to sign some at the Lightspeed Fine Art Booth (#3745).
There's a few more events going on, but I suggest you check your programming guides for more info, or catch the latest updates via StarTrek.com.