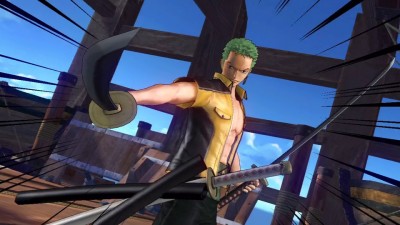 I've mostly outgrown my affection for the typical shonen genre exemplified by franchises like Bleach and Naruto. However, there is no way I can abandon One Piece, be it for the inventive action, energetic characters, and boundless enthusiasm on show. I think at this point I'm enough of a fan to even consider playing a videogame based on a series I've so far avoided. Part of that is how accurately One Piece: Pirate Warriors for PS3 depicts famous fights from the story.
Namco Bandai of Europe has released a trailer showing the fight between Roronoa Zoro and Dracule Mihawk during the early part of the story, when Luffy is still acquiring the original members of his pirate crew. While I generally prefer 2D animation to CG animation, the cutscenes actually look kind of better than the anime's adaptation of this scene, as the animation in the earlier episodes is pretty cheaply done.
The trailer features the original Japanese voices, as part of the deal for North American and European gamers actually getting this game is that it will forgo an English dub to keep costs down. In fact, the game will only be a digital download when it releases on the PlayStation Network in North America on September 25. European gamers not only get to purchase a physical copy, but also get it a few days earlier on September 21. Even as someone who has never felt interest in picking up a Dynasty Warriors game, even Dynasty Warriors: Gundam, I know I'll be caving when this comes out.
Source: Crunchyroll