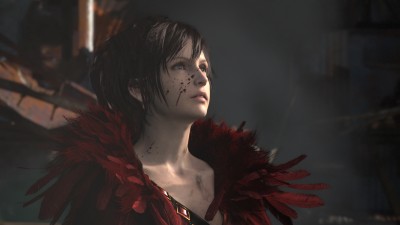 One of the most intriguing things to come out E3 2012 was Square Enix's realtime tech demo Agni's Philosophy. (You may take that as a sign of how comparatively tame E3 was this year, but I'm still legitimately impressed by the footage.) Square Enix has never been a slouch when it comes to graphics; say what you will about Final Fantasy XIII, but it pumped out some really impressive visuals on the PS3, blurring the line between prerendered cutscenes and in-game cutscenes. Now the company is showing off what else the tech running the demo can do.
Square Enix brought Agni's Philosophy to the computer graphics conference SIGGRAPH and demonstrated more of the power behind their "Luminous Studio" game engine. This version of the demo featured the ability to pause, adjust the camera, and change rendered elements instantly. For example, check out the options just for this old man's beard. Beyond simple color tint, look at how twisty the hair can be made. And when the demo is unpaused, it renders with no problems whatsoever.
Particle effects can also be easily altered, as seen with the glowing bugs and the meat beneath them.
I'm sure that Square Enix will want to keep this engine in-house, being a Japanese company and all. Still, the Luminous Studio is looking very impressive and will certainly give other next-gen engines such as Unreal a run for their money. Of course, the most amazing graphics in the world won't mean a thing if applied to a mediocre game, not to mention married to poor art design. Maybe some of Western developers will brainstorm ideas with the Japanese developers now that Square Enix owns Eidos?
Source: Siliconera, 4Gamer