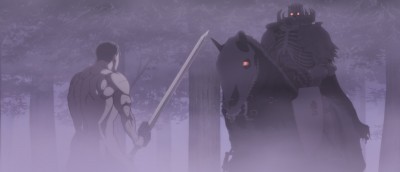 The next installment in Studio 4°C's adaptation of Berserk is coming soon to Japan, and the studio has released a brand-new trailer via Yahoo! Movies Japan. Titled Berserk Golden Age Arc III: Descent, the movie wraps up the planned trilogy covering volumes 3-15 of the classic manga. (Wait, does it count as classic if it's still running? Author Kentaro Miura sure likes taking his time.)
From the trailer, it looks like some serious events are going down, what with all the screaming faces and dramatic poses. Still, I can't get over this film series's strange mixture of 2D and CG animation. Why not one or the other? It looks odd, like two art styles are clashing. Maybe this film will mix the elements better than the first film did.
The 110-minute film opens in Japan in January, but American fans will have to settle for Viz releasing the first film on DVD and Blu-ray come November 27. Maybe then Studio 4°C can get around to animating some of the manga that wasn't previously adapted in the original anime from the late 90s?
Source: Anime News Network