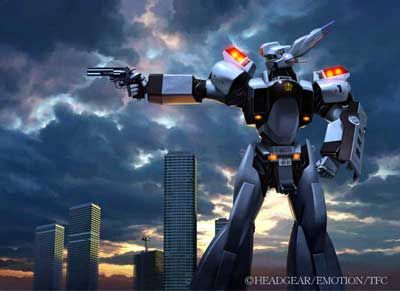 Last night, Nico Nico Namahousou hosted a live-stream discussion between Mamoru Oshii, the director of the original Ghost in the Shell movie, and Toshio Suzuki, the producer at Studio Ghibli (known for films like Princess Mononoke and Spirited Away). While the talk was going on, Suzuki mentioned that he had talked with Tomohiko Ishii, the producer of The Sky Crawlers, a 2008 film also directed by Oshii. Suzuki claimed that he heard some interesting rumors concerning Oshii's next project: a live-action Patlabor movie.
Mobile Police Patlabor is a late 80s/early 90s robot franchise in which police officers pilot mechs. Mamoru Oshii directed the seven-episode anime and two subsequent films, and once tried to get a live-action movie off the ground. In 1998, he filmed a two-minute pilot with some pretty dated CGI, but the film ultimately wasn't produced.
Of course, Oshii tries to not address Suzuki's rumor, but Suzuki seems pretty confident about it and Oshii certainly likes working with the franchise. Suzuki suggests that a "foreign company" might be investing in the movie, but Oshii claims that Suzuki is thinking of another project. Could Oshii be keeping quiet about a live-action Patlabor movie? The original transcript is below, so you can draw your own conclusions.
Suzuki: I've heard this from someone…are you going to make another Patlabor film?
Oshii: What's that?
Suzuki: Patlabor. A live-action film. That's what I've heard. I've heard it from Ishii.
Oshii: Ahaha!
Suzuki: Is it true?
Oshii: I can't say anything to that, of course!
Suzuki: So you're working on it! I've got it!
Oshii: Actually, I'm also working on so many other projects now. I've suddenly became very busy. I haven't done so much in the past three years, though.
Suzuki: I've also heard a foreign company will invest money. They liked your old materials that you showed to them.
Oshii: That's another project.
Source: Crunchyroll