Posted by Bob Muir on Sep 12, 2012 in
Videogames
|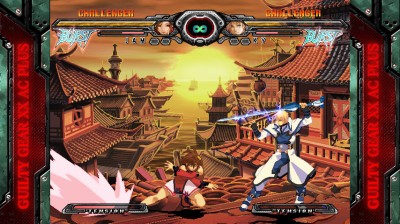 Back before them kids started messing around with their Calamity Triggers and Continuum Shifts, Arc System Works had another fighting game: Guilty Gear, the spiritual successor to BlazBlue. Due to some copyright shenanigans with Sega, Arc System Works lost the rights to make Guilty Gear for a while, which meant no more endless iterations instead of a proper sequel. But recently, the rights returned to their rightful owner! And now we have a new release of an old game, headed to super-powered videogame platforms!
The latest version is not a sequel, but a newly balanced arcade version called (take a deep breath) Guilty Gear XX Accent Core Plus R. For reference, the last version was put out for the PS2, PSP, and Wii in 2009 and was basically the same game, minus the new balance (and the "R" in the title). This one, however, is headed to PS3 and Xbox 360 via digital download, with added online play, in October.
According to Famitsu, GGXXACPR is also being released on PlayStation Vita sometime in 2013. As an added bonus, it will include full voice acting, which I assume refers to the game's story mode.
I can only hope that this latest version is perhaps the final, definitive version of Guilty Gear XX. It's about time for Arc System Works to move on to Guilty Gear XXX, or whatever they decide to call it so it doesn't sound like a porno.
Source: Siliconera