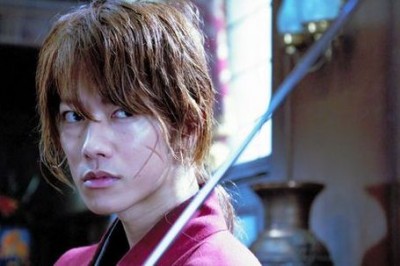 Rurouni Kenshin was one of my favorite mangas to come out of Weekly Shonen Jump in the 90s. When I started watching the censored anime adaptation that was broadcast on Toonami in the early 2000s, I didn't realize that I would fall in love with Kenshin the repentent samurai enough to pick up every volume that came out, especially the third and final act that never made it into the anime. To say I'm excited for seeing the live action adaptation is an understatement, and now that the film has premiered in Japan, it looks like the rest of the world is on track for getting its own release!
Rurouni Kenshin has been licensed for distribution in 64 countries and 2 additional areas. These countries range from Europe to Latin America to Asia, and while a full list of countries hasn't been disclosed, Germany, Mexico, and Taiwan are part of the deal. Negotiations are also underway for an additional 17 countries to get the film.
What's concerning is the fact that there aren't any firm announcements for major markets such as the US and Canada. I admit it's a bit ethnocentric, but bringing the film to North America is usually a big deal and kind of a given, so to not see any mention of it is odd, especially when the Warner Brothers logo appears right at the start of the trailer. Maybe the companies are still hashing out the details for some countries and the US is part of the 17 countries currently negotiating the rights.
Regardless, this is good news for other non-American markets, who were enjoying Samurai X (what many countries call Rurouni Kenshin) way before it got more popular in America. I'd imagine that they might rename the movie for marketability, but it won't change what looks to be a fun samurai tale.
Source: Anime News Network