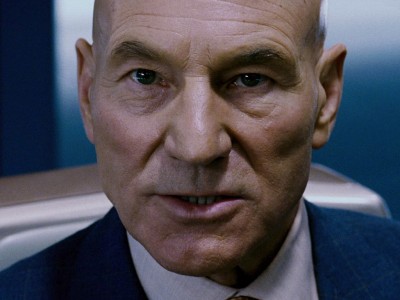 It's been a while since Patrick Stewart played Charles Xavier, a.k.a. Professor X, in the X-Men films. X-Men: The Last Stand was his last take, with subsequent films focusing on Wolverine and then recasting James McAvoy in the role for X-Men: First Class. Of course, First Class did pretty well, so there's a sequel planned — and Stewart is back on board.
That doesn't mean McAvoy is out, though. X-Men: Days of Future Past is based on the similarly titled comic that takes place both in the past and the "future" present-day. It seems like the natural course of things was for McAvoy to continue playing Professor X, but there wasn't any word about who would play the older Professor X until now.
When asked about a return to the role at Montreal Comic Convetion, Stewart said, "I think there is every possibility. Halle Berry! Famke Janssen! Rebecca Stamos! Anna Paquin! Yes, I'll be reprising…" Naming all those co-stars sounds like good news for X-Men fans, but of course that all these actors are locked up, as there's certainly wiggle room in that statement. Stewart also didn't give any further details about his part and how much screen time he'd have, so it's possible it might only be a cameo. Still, it's cool to think about it, because no offense to McAvoy, but come on, Stewart is totally Professor X.
Source: io9