Posted by Bob Muir on Sep 25, 2012 in
Videogames
|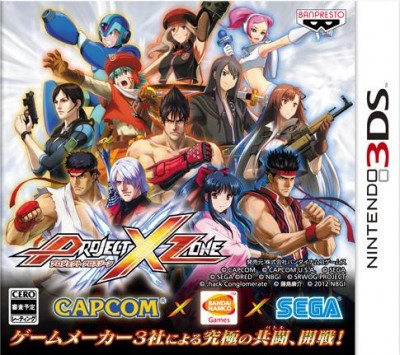 Project X Zone (pronounced Project "Cross" Zone) is a massive crossover game being made by Namco Bandai for 3DS. While Namco has previously worked with Capcom on the crossover games Namco x Capcom, Street Fighter X Tekken, and the upcoming Tekken X Street Fighter, this is the first time that Sega is being brought into the mix. The game features characters from a long list of various game franchises, which is usually a good indication that the game would remain in Japan; for example, Namco x Capcom was never localized. However, that has the potential to change.
Tekken producer Katsuhiro Harada thinks that Project X Zone could do well worldwide, so he's proposed the localization to the higher-ups. Nothing has been decided yet, but he plans to keep pushing it until they give in. That's no guarantee that a localization would happen, but at least someone with a bit of influence at Namco Bandai wants to see the game get into the hands of Western gamers. Maybe we'll hear more after the game's Japanese release date on October 11, 2012.
For reference, Project X Zone includes characters from the following games and series: .hack, Alien Storm, Cyberbots, Darkstalkers, Dead Rising, Devil May Cry, Dynamite Deka, Endless Frontier, Fantasy Zone, Fighting Vipers, Ghosts'n Goblins, God Eater, Mega Man Legends, Mega Man X, Namco x Capcom, Resident Evil, Resonance of Fate, Rival Schools, Sakura Wars, Shining Force EXA, Side Arms Hyper Dyne, Space Channel 5, Space Harrier, Street Fighter, Super Robot Wars: Original Generations, Tales of Vesperia, Tekken, Valkyria Chronicles III, Valkyrie no Boken, Virtua Fighter, Xenosaga, Yumeria, Zombie Revenge, and several original characters.
With a list like that, I really want to play it! In the meantime, I'll settle for this fancy new animated intro.
Source: Japanator