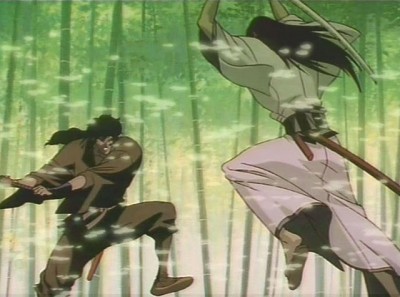 Distributor Section23 is wasting no time taking some recent anime licenses from Sentai Filmworks and turning them into releases. The biggest title is the rerelease of the classic 1993 anime film Ninja Scroll, the story of the ninja Jubei in feudal Japan. For many, this is one of the most notable anime out there from an era when the medium was still underground in the United States. Ninja Scroll is available on Blu-ray and DVD on December 4, but that's not all!
Also on December 4 is a DVD release of Mashiroiro Symphony, while December 11 sees the DVD release of Letter Bee Collection 1 and complete DVD collections of Magical Shopping Arcade Abenobashi and Kobato. On December 18, the complete collection of The Legend of Heroes, an adaptation of the videogame series by Nihon Falcom, is available on both Blu-ray and DVD.
For some reason, Section23 is releasing Hakuoki: Record of the Jade Blood and Idolm@aster Xenoglossia Collection 2 on December 25, Christmas Day, but I'm sure this makes sense to someone in marketing. The month is rounded out on December 31 by the first collection of the intriguing supernatural series Penguin Drum on Blu-ray and DVD. Oh, and also Qwaser no Stigmata Collection 1, but you don't have to care about that fanservice mess.
I'm particularly looking forward to those Blu-rays of Ninja Scroll and Penguin Drum, but the whole month looks really solid. It's going to be tricky deciding which things will make the cut for a Christmas wishlist.
Source: Crunchyroll