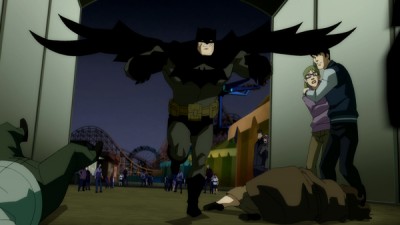 Batman vs. Superman is one of those match-ups that usually bug me. One of them is an extremely intelligent, paranoid sociopath, while the other is a nigh-invincible alien who can throw anything that bothers him into the sun. Writers will try to even the odds, since Batman is as big a name as Superman, but realistically, there's no way that Superman wouldn't just punch Batman to death before he could execute any of his plans.
There's another Batman vs. Superman fight in this trailer for Batman: The Dark Knight Returns, Part 2, but I guess I can overlook it because the rest of the trailer looks pretty cool. What I can't overlook is that Peter Weller is still a horrible choice to voice Batman. I know it's unrealistic to expect Kevin Conroy to voice Batman in every incarnation forever, especially since sometimes a director may want to portray a different side of Batman, but the way Weller voices the character is so boring and nondescript.
Man, the DC Animated Universe really left an impression on me as a kid. I'm sure this movie could be good too, even if Conroy has already proven that he could portray an aged, bitter Bruce Wayne in Batman Beyond.
Source: Topless Robot