Posted by Bob Muir on Oct 17, 2012 in
Videogames
|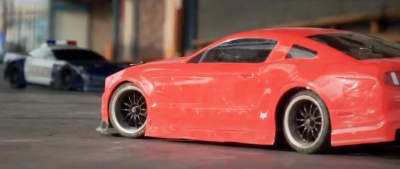 Though it has its detractors, I still think Burnout Paradise was one of the most fun racing games in recent memory. The team at Criterion has since been put to work on the upcoming Need for Speed: Most Wanted, incorporating an open-world in a similar fashion to Burnout Paradise. The game is out on October 30, so that means it's time for trailers, including this awesome offering from YouTube superstar Freddie Wong. This is the most impressive car chase ever shot with remote control cars.
Yes, that's right, Wong took several remote control cars, sent remote control police cars after them, and made them do the kind of stunts you'd see in a movie like The Fast and the Furious. I was fairly impressed with the earlier sections, but I totally lost it when the cop car smashed into the tiny fruit stand. The stand-off with the helicopters also had me smiling.
Part of this reminds me of the toy car DLC that was released for Burnout Paradise. Of course, those toy cars were still almost the size of regular cars. Maybe Criterion is interested in making a similar, albeit properly-scaled DLC for Need for Speed: Most Wanted?
Source: Kotaku