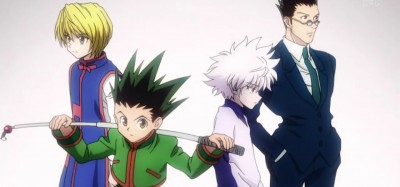 Since October 2011, Madhouse has been animating a new adaptation of Hunter x Hunter, a manga by Yu Yu Hakusho's Yoshihiro Togashi. But back in 1999, there was a 62 episode adaptation by Nippon Animation. Both anime reflect the time period they were made in, but since they cover the same narrative beats so far, that means they're ripe for comparison videos!
YouTube user Hillua has been comparing certain scenes between the series, and the latest are two videos that illustrate the differences in Gon & Killua's escape and Chrollo & Zoldycks's fight. I know that the 2011 anime has a lot going for it, and it's also aiming to stay truer to the manga's more violent moments, but I think I may be one of the few people who prefer the look of the 1999 anime. The scenes in the 2011 version often come across as flat and uninteresting, while the 1999 version features a more hand-drawn look that always attracts my attention.
So between more interesting direction and some more interesting, if primitive, animation, the 1999 Hunter x Hunter anime gets my vote in the imaginary poll between the two versions. Of course, the 2011 anime will go beyond the 1999 anime, so that's a major point in the overall poll.
Source: Crunchyroll