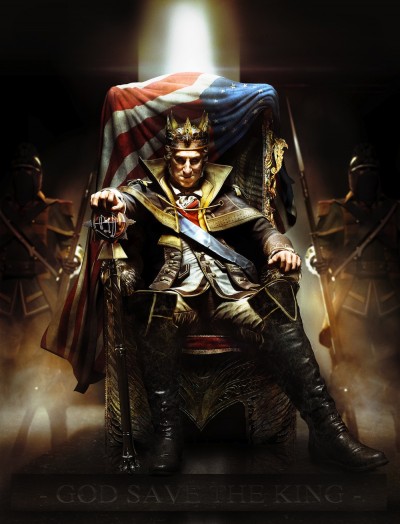 Fans of Assassin's Creed are already familiar with alternate histories, considering the series features an ongoing secret war between Assassins and Templars, fighting over artifacts from an advanced earlier civilization. This fall's Assassin's Creed III will continue that war, resolving the storyline of modern-day assassin Desmond Miles while exploring his genetic memories of a new assassin ancestor, the Native American Connor Kenway in colonial America. Though the base game is enticing enough, one piece of future downloadable content may be too cool to pass up: killing evil George Washington.
To be fair, this extra campaign, called "The Tyranny of King George," is non-canon to the plot of the games. But damn, what an awesome what-if scenario! In this DLC, our first president allows power to corrupt himself at the close of the Revolutionary War. In order to protect the newly-born country of America, Washington becomes a tyrant king, and Connor must take out his one-time friend.
When I first heard about ACIII occurring during the American Revolution, my first thought was that I'd get to kill Washington, because he would probably turn out to be a Templar with the way Ubisoft likes to muddy the water when it comes to who's on which side. But then I found out that he'd be a major ally to Connor and remembered that he was a Freemason, which probably meant that killing Washington was off the table. But now my original idea of what the game was about is not completely incorrect!
"The Tyranny of King George" will make up three parts of the five-part "Season Pass" for ACIII, which was just announced today. The pass will deliver additional content throughout the coming months for $30, a 25% discount over buying each piece separately. After playing every other Assassin's Creed game on consoles, I'll certainly be putting down the money for this bit of alternate history.
Source: Kotaku