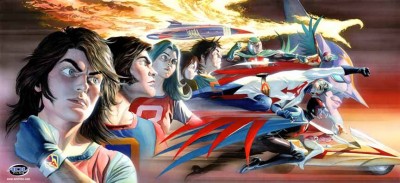 Though mainstream audiences may know the series as Battle of the Planets or G-Force, depending on how old they were when it was on the air, to old-school anime fans it has always been Science Ninja Team Gatchaman, or just Gatchaman. The adventures of the five-member team was widely popular the world over and spawned an additional OVA, as well as laying the foundation for franchises like Super Sentai, which was eventually adapted into Power Rangers for America. A movie had been planned by Imagi, but the company cancelled it in 2011. Now, there's a new film project, coming this time from Japanese producer Nikkatsu.
Director Toya Sato (live-action Grave of the Fireflies) begins filming Gatchaman on October 15, with an intended release of summer 2013. Yusuke Watanabe (live-action 20th Century Boys) is writing the script, while Shinji Aramaki (Appleseed movie) is designing the characters. Takashi Yamazaki (2010's Space Battleship Yamato) is taking care of the effects.
It'll be interesting to see how this pans out, as lots of people have fond memories of the classic anime. Personally, I'd like to see everyone ham it up a bit, make it a real classic battle of good vs. evil, because making it too realistic could really hurt the production.
Source: Anime News Network