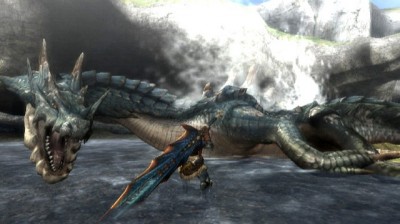 Monster Hunter may be very popular in Japan, but it hasn't always gotten its due in the West. It has a loyal fanbase, but not every installment of the game has made it across the pond. So considering the fact that the Wii U's Monster Hunter 3 Ultimate is an upgraded version of the Wii's Monster Hunter Tri, it's cool that Capcom is still bringing it out in America. Cooler still? The game is getting some solid technical upgrades.
Monster Hunter 3 Ultimate will be displayed at full HD, 1080p resolution, with the audio being bumped up to linear PCM 5.1 surround sound. Since Monster Hunter is usually a handheld game, the upgrades make this the best looking and sounding version of the game out there.
There is also a 3DS version of Ultimate on the way, and you can use up to three 3DS copies of the game to play locally with the Wii U version. The Wii U version also supports online play, which is pretty important for Western gamers.
Both the Wii U and 3DS versions of Monster Hunter 3 Ultimate will release sometime in March 2013.
Source: Siliconera