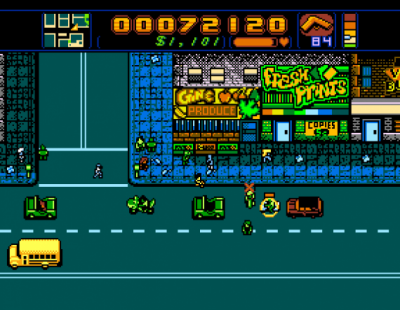 There are lots of indie games out there making either conscious or subconscious references to games of yore. Part of that is because of the solid, pure design some of these iconic games featured, and part of that is because of affectionate nostalgia. But it's not often that a retro-inspired game has been in development for so long that it could practically qualify for an "retro" game itself, and not just because it looks like an NES game on steroids.
Retro City Rampage has been worked on by Brian Provinciano since 2002, when it was just a sprite-based remake of Grand Theft Auto III. Since then, it's evolved into its own beast. It's not just a GTA clone, but an homage to tons of classic games like The Legend of Zelda, Super Mario Bros., Skate or Die, Smash TV, Frogger, and even things like the Virtual Boy.
There are a ton of references mixed with original execution in the latest trailer, put out to promote the game's October 9 release date. Retro City Rampage is available to download on PS3, PS Vita, and Steam, with WiiWare and Xbox Live Arcade downloads coming very soon.
Source: Kotaku