Posted by Bob Muir on Nov 14, 2012 in
Videogames
|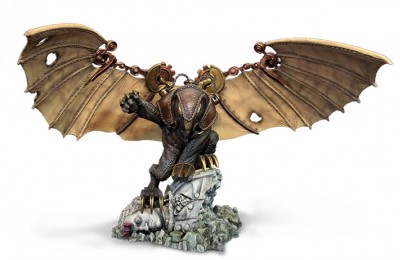 The best way to get me to buy a major game at launch is to include a fancy, well-made statue with it. I've moved past being okay with dinky little figurines that barely look like the character; it has to be big and detailed so I can show it off with pride, space be damned. That's why even though I just recently got a nice figure of Assassin's Creed III's Connor when that game released, I'm salivating at this Songbird statue that is being included with the BioShock Infinite Ultimate Songbird Edition.
Creative director Ken Levine explains in a video how nerdy he is about statues too, and why this statue is so awesome. What I didn't realize is that the statue actually comes in a separate box, designed with a retro aesthetic to look like a period toy. It's so nice that now I'm torn about what is more aesthetically interesting: to take the statue out and let it spread its wings, or to keep it in its box so it looks like it somehow fell out of time.
I'll have some time to decide though, since BioShock Infinite will not be out until February 16, 2013, giving me plenty of time to scrounge up the $150 this package is going to cost.
Source: Polygon