Posted by Bob Muir on Nov 22, 2012 in
Videogames
|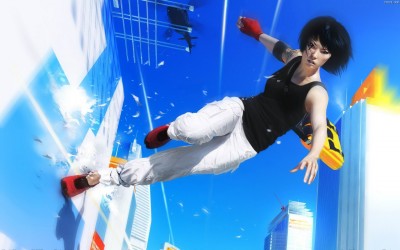 2008's Mirror's Edge, from Battlefield studio DICE, was an interesting concept that ultimately didn't perform very well due to insufficient quality and the challenges of being a new IP. The idea of first-person free-running is cool, and the game was very commendable for featuring a bright, shiny aesthetic with splashes of color in a time when brown-and-gray visuals were getting old. In the end though, many players were disappointed, yet still optimistic for a sequel to fix the first game's problems. That sequel never came, but rumors indicate that Mirror's Edge 2 may already be in development.
Previous teases indicated that EA and DICE were considering how to fix Mirror's Edge's issues, that they were interested in what fans wanted from a potential sequel, and that any new Mirror's Edge game would likely run on the Frostbite 2 engine that powers Battlefield 3. Now a tweet has surfaced in response to yesterday's Eurogamer article about EA wanting to avoid making DICE a Battlefield factory that only churns out more war games.
Ben Cousins is currently the general manager at ngmoco Sweden, but was previously executive producer of Battlefield at DICE. He tweeted that "It is general knowledge in the Stockholm dev scene that Mirror's Edge 2 is in production at DICE". It's far from official confirmation, and there have been many games that were in development yet later canceled, but combined with the other rumors, it certainly seems like good news for those waiting on a sequel. One can only hope that enemies with guns are one of the things up for reconsideration.
Source: Kotaku