Posted by Bob Muir on Nov 27, 2012 in
Videogames
|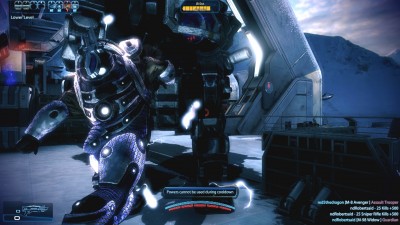 Many were surprised that Mass Effect 3 actually had a multiplayer mode worth playing, instead of what seemed like a tacked-on feature. It's not everyone's cup of tea (and not what I bought the game for), but it's certainly a well-made co-op mode. When I was playing it though, I never left Bronze difficulty, the lowest of four difficulty settings. For those who aren't pros at shooting games, it provided enough of a challenge that I wouldn't dream of not teaming up with partners to beat the computer. And yet, there are those who can solo not only Bronze, but the next difficulty level Silver, and one of those people can do it without possessing control of his limbs.
Alain Poitras has been a quadriplegic since 1985, but that hasn't dulled his love of gaming. Using a touchscreen mouse and a stick in his mouth, he plays Mass Effect 3 on PC and has managed to beat some multiplayer levels not only on Bronze difficulty, but also on Silver difficulty, without any help from other players. He even received props from BioWare senior designer Manveer Heir.
Some may point out that Silver isn't that hard compared to Gold or Platinum, but from where I'm standing, it's already a greater feat than I can achieve, and I have control of all my limbs. Bravo, Poitras. Keep fighting the good fight!
Watch the video below, as well as another video showing how Poitras plays with his disability (while also soloing a Bronze multiplayer session).
Source: Kotaku