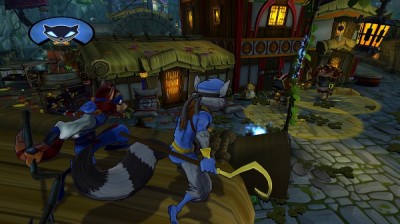 Of the PS2's three mascot platformers – Jak & Daxter, Ratchet & Clank, and Sly Cooper — I least expected Sly Cooper to get brought back. Not many people seemed to talk about the series, though what I did hear was uniformly positive. But lo and behold, the PS3 is getting a fourth installment in the series, Sly Cooper: Thieves in Time, from Sanzaru Games, the studio that did the HD conversion for The Sly Collection. And of course, while traveling through time, it's not a bad idea to change your outfits to match the locale.
In a newly released Sony trailer, Sly transforms into archer, samurai, and pirate modes, gaining new abilities in the process such as a bow & arrow, a shield, and…scurvy? It looks like Sly is slowing down time, but I'm not sure how that's a pirate ability. The game is looking good though, so hopefully Sanzaru picked up some good experience from working on The Sly Collection. I still have it on my shelf, so I can check out Sly's original games, but I'd like to see this do well at retail. We could really use more platformers with cartoon characters in them, provided that doesn't become a massive trend like in the 90s.
Sly Cooper: Thieves in Time will be released for PS3 on February 5, 2013.
Source: Siliconera